Help Us Fix New York's Megan's Law
---
Tweet

1. Please sign our Petition First,

then share.


SIGN OUR PETITION urging New York State lawmakers to close loopholes in Megan's Law which leave children vulnerable. State law is needed to restore residency restriction, prevent certain sex offenders from
dropping off the registry, and to protect
valuable sex offender verification programs.
Dear Governor Cuomo, Senate Majority Leader Flanagan, and Assembly Speaker Heastie,
We join Parents for Megan's Law and the Crime Victim's Center in urging you to take immediate action to close loopholes in New York's Megan's Law. On February 17, 2015 the New York State Court of Appeals struck down County residency restriction laws, leaving New York's vulnerable populations at risk of having dangerous sexual predators taking up residences right across the street from locations where it is known that children congregate, such as elementary schools. The Court of Appeals decision did not ban residency restrictions altogether but it did put an end to the proliferation of non-uniform restriction laws enacted by local municipalities across the state which resulted in a clustering and shifting of sex offender housing to neighboring communities with differing restrictions.
We join the community, lawmakers, and Parents for Megan's Law in support of A1651 (2017 Murray) S5201 (2017 Croci) which authorizes the Counties across New York State to adopt, by local law or resolution, sex offender residency restrictions to prevent Level 3 offenders, offenders convicted of sexually violent offenses, predicate offenders, sexual predators and registrants who have committed offenses against minors, from residing too close to public, private, and charter schools. Pursuant to the proposed legislation, we support the maximum residency restriction to be codified at no more than 1000' since the objective is to reduce the potential risk of re-offense by preventing daily exposure to potential victim populations. In addition, we support a provision requiring offenders registering as "homeless" to report their location description daily to the jurisdiction in which they reside. This measure prevents circumventing of reporting requirements.
Passage of this proposed legislation will also codify in state law the authority a County has to implement already successful Megan's Law Community support programs such as those in Nassau and Suffolk Counties, and model sex offender verification programs such as the Suffolk County Community Protection Act. The Act was unanimously adopted by the Suffolk County Legislature in February of 2013, and is a ground breaking bi-partisan initiative that established among other things, a comprehensive sex offender verification program, prevention education to children and adults, and victim services. In just three and a half years the program has resulted in a reduction of registered sex offender sex crime recidivism in Suffolk County. And, in keeping with the spirit of Megan's Law, the in-person verification program has provided our community a more updated sex offender registry since its creation in 1996.
This proposed legislation also directly addresses a deeply concerning issue we share with the community and with Parents for Megan's Law. Beginning January 1, 2016 Level one registered sex offenders began to drop off the sex offender registry because their twenty year registration period had been satisfied. It has been brought to our attention that certain Level 1 offenders convicted of horrific violent crimes such as Rape 1st Degree, Criminal Sexual Act 1st Degree (Sodomy) and other sexually violent offenses against children as young as four years old have dropped off the registry or will drop off the registry in the future. For this reason we support extending registration for Level 1 offenders pursuant to the proposed legislation.
We stand strongly with the community, lawmakers, and Parents for Megan's Law in support of A1651 (2017 Murray) S5201 (2017 Croci).
Sincerely,
A Concerned Community Member
New Support from:

2. Please click on and sign the following 3 petitions.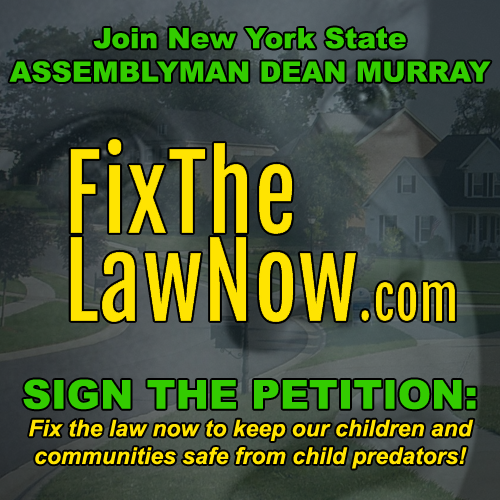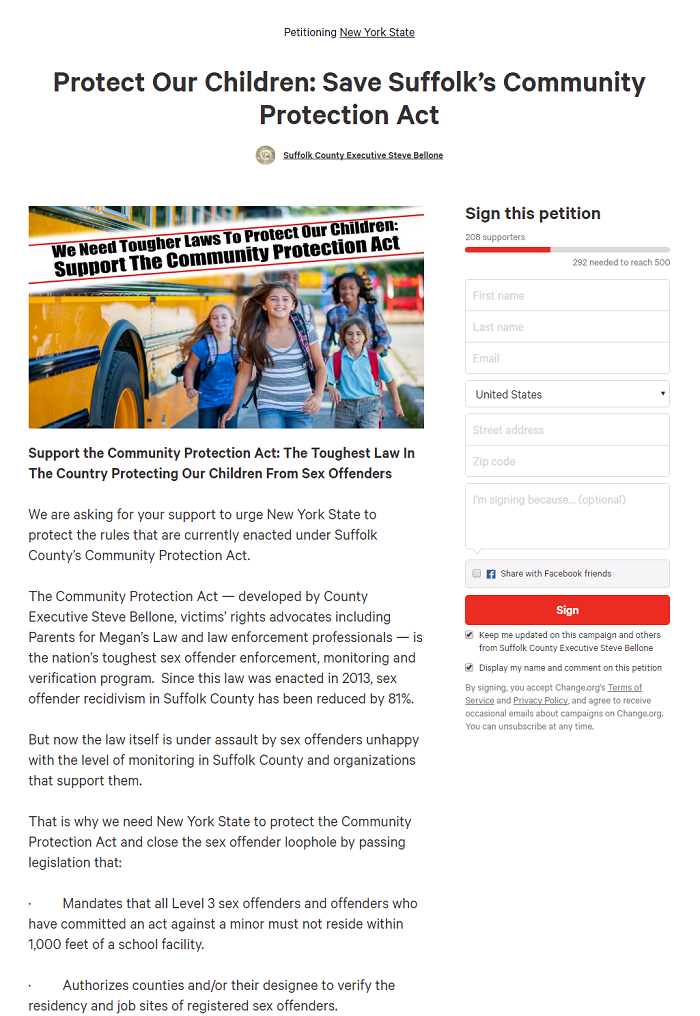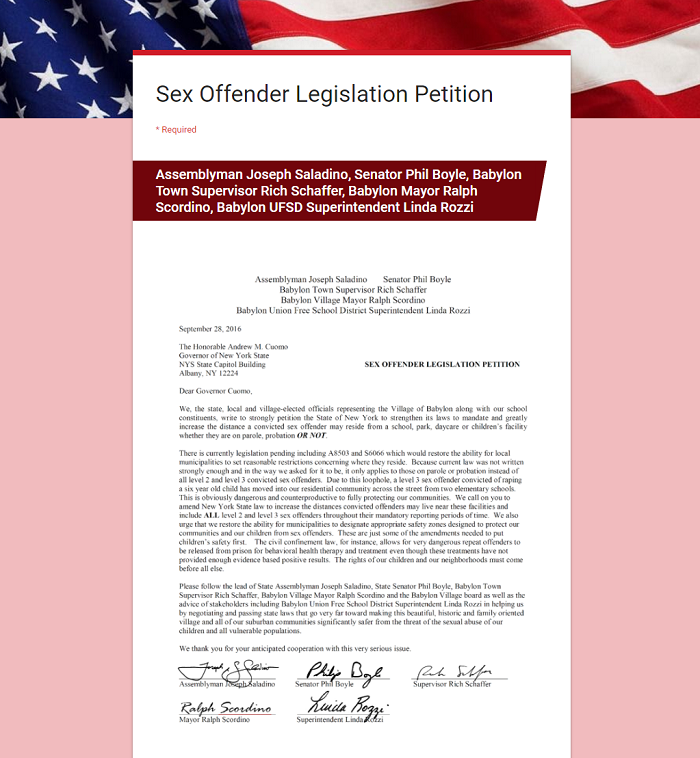 We also have Support from: