Prevention - Safer Online Gaming
---
A.G. SCHNEIDERMAN'S "OPERATION GAME OVER" PURGES THOUSANDS

OF SEX OFFENDERS FROM ONLINE VIDEO GAME NETWORKS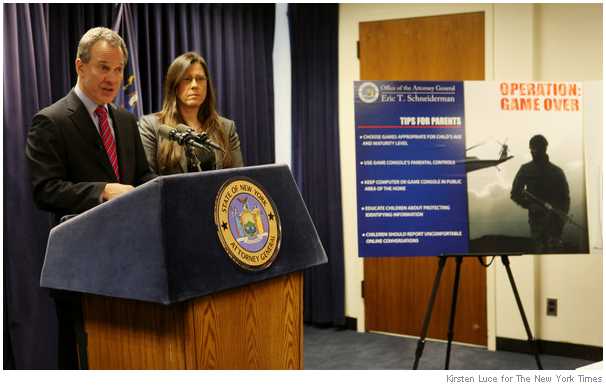 On April 4, 2012, New York Attorney General Eric T. Schneiderman announced that over 3,580 accounts of registered New York sex offenders were being purged from online video game platforms as part of "Operation Game Over", a ground-breaking initiative with participation from Microsoft, Apple, Blizzard Entertainment, Electronic Arts, Disney Interactive Media Group, Warner Brothers and Sony. The Attorney General's video game database sweep is the first-of-its-kind effort
to protect children from online predators in New York State.
The following gaming platform companies who take online safety seriously and participate in this program at their own expense are:
Microsoft
Apple
Blizzard Entertainment
Electronic Arts
Warner Bros
Disney Interactive Media Group
Sony
PARENTS BEWARE!If your children are playing online games produced by a company not listed above; that company HAS NOT AGREED to participate in this initiative!
Together, we can all make online gaming platforms safer for our children.